Intended Use and the Usage According to Regulations
Intended Use (check out also GHTF/SG1/N70:2011) is an objective aim of medical products manufacturers related to the purpose of the products, processes, or service. It is about how the specification, instructions, and information of products, processes, or services, ensure the purpose. 
Definition of the term intended use (of medical devices)
The term intended use includes medical devices, strictly speaking in two aspects:
The actual medical purpose, that is, which disease or injury you can diagnose, treat or monitor
The authorized users, including the intended use, but also other planned actions of the user with this medical device such as storage, transport, update, or cleaning.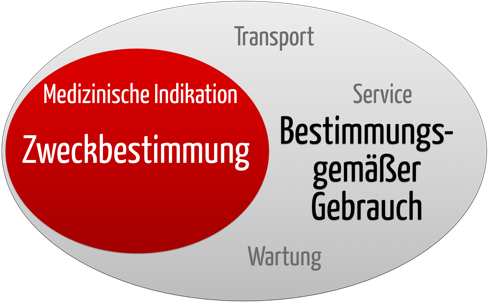 Die IEC 60601-1:2013 defines the "usage in accordance to regulations" as operation, including routine inspection and adjustments through user, and standby correspondent to the instruction manual.
Elements of an intended use
Address the following aspects in your intended use:
Medical indication (for example, illness)
Intended patient group
Probable body part
Probable User Profile
Intended use environment/usage environment
Functioning, physical principle
Other Intended use
The training videos in the audit grant will show you how you can document an intended use and comply with the law and still be able to condense documents. As a premium member of the audit grant, even a template with sample content is available, you only need to adjust it to your medical device.